After I had my hard drive die on me 7 years ago. Loosing years of load of Visual Basic 6 code and
programs that I had written, I decided to stop my hobby of programming, and took up Photography
instead.
But now I have decided to start a fresh and try my hand at VB.NET to see if I can get myself back
into the groove.
So I downloaded a copy of Visual Basic 2010 Express on Friday night and have spent all Saturday
and most of today (Sunday) immersing myself in code, and finding my way around.
I wanted to create a program that would be of some use, to keep me motivated.

So I decided to
see if I could write a program that would grab a
realtime.txt
file and display it's contents at a
specific time interval. Which is what I have hopefully managed to achieve

Hopefully some of you may be interested in using it? and I could do with any feedback / comments
/ bug reports or suggestions, that I could update / add in future updates.
FYI.
I know about the rouge
Label2
I have left on the "Setup interval screen"

I have already
shut down my other machine which I have VB on and need to give my eyes a rest

so I
will have to remove it when I next go back into the code.
Download:
HTTP://www.wokinghamweather.co.uk/downl ... DGv101.zip
Screen Shot: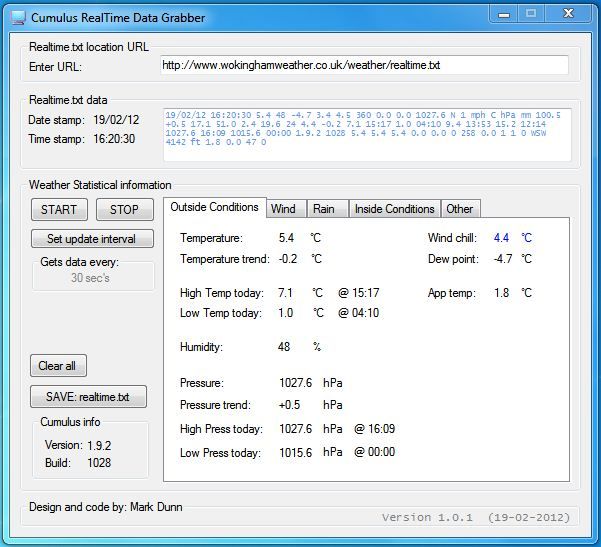 Mark